Our Products
Nonprofit Online
Connected and Inspiring...

Empowering Australian Nonprofits to
Grow Online
Nonprofit Online is purpose built software

developed and supported in Australia by IVT

Through many years helping Australian nonprofits grow by implementing their online presence, IVT has learnt what makes our nonprofits unique, we have created Nonprofit Online to:.

help streamline your operations to engage supporters
reduce your administration overhead
manage your donations easier ; and
service your cause better

FIND OUT MORE
REQUEST A FREE CONSULTATION



We recognise

Australia's benevolent structure is different to other countries, and we have created Nonprofit Online to help our nonprofits engage the community in different ways, to strengthen the giving process in Australia.
Product features include:
Automated online donations
Targeted marketing
Integrated contacts database, linked to all other functionality areas
Tracking of many contact types including donors, volunteers, supporters, clients, staff, and members
Self management of contact details
Interactive forms
Web content management system

News publishing, RSS
Online document storage
Online Newsletter Signup
Invoice management
Restricted areas based on contact type
Event management
Volunteer support
Client support
Banner advertising
Optional features include:
Social networking and communities
Contact directories
Online store
Conference management

Product Functionality Modules
Nonprofit Online consists of a set of core modules that could benefit most nonprofit organisations along with optional modules you can choose to suit your unique business processes.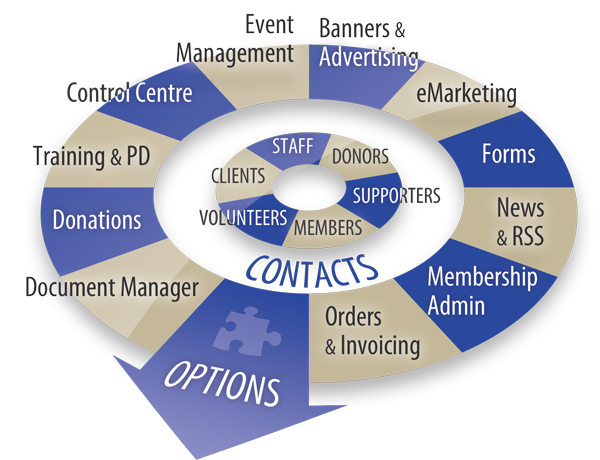 Conference Module

Abstracts Module
CPD Manager
Online Surveys
Search Directory
Staff/Volunteer Centre (CMS)
Online Payment Gateway
Offline Payment Gateway

Clique Online Community

Blog Module
Online Publishing
Member Awards
Regional Administration
Online Store
Campaign Vouchers
Gift Vouchers
eKnowledge (Searchable Repository)
Access Groups
Site Search
Analytics (Google)
Email Manager
Map manager
Import / Export manager
PDF Builder
Reposrts Builder
Site Map (XML)
My Account / Profile